
HOURS
| | | |
| --- | --- | --- |
| Mon – Thur | – | 9am – 5pm |
| Friday | – | 9am – 2pm |
| Saturday | – | By Appointment |

Call for Appointments
Call us during business hours to schedule an appointment, or use the contact form to request a call back.
(714) 480-0790 →
During normal business hours call us for dental emergencies. For any life-threatening issues call 911.
Dr. Lamise Kassem – Tustin Dentist
The practice of
Lamise Kassem, DDS provides quality dentistry for people of all ages. We offer a wide range of dental services including preventive, cosmetic and restorative dentistry. We pride ourselves on our patient-centered practice. We do everything possible to make dental visits pleasant and positive experiences for our patients. We continually strive to earn the loyalty of our patients, and expect that we will see second and even third generations. Our office is dedicated to providing high quality dental care in our state of the art dental office. We utilize the most advanced materials and techniques in the dental field today. We offer an oriented environment that includes comfort, trust and education.
Dr. Kassem attended University Of Michigan for her Bachelors degree. Her passion for dentistry led her to the University of Detroit Mercy School of Dentistry, where she obtained her D.D.S degree in 2000. She is Board certified in the Northeastern region, moved to California and became board certified in 2002.
Teeth Whitening
Invisalign
Fillings
Bonding
Dentures & Partials
Bridges
Crowns
Endodontics (root canals)
Simple Extractions
Veneers
Night Guard
Smile Makeover
Meet Your Dentist
Outpatient surgery

Dr. Lamise Kassem

Gentle, Compassionate, & Caring

Come in for a visit and let me design a dental plan unique to your lifestyle and needs.
Completely Relax
Get the care you need and want.
New Facility
Latest technologies including low-radiation digital X-rays for your family's health & comfort.
KIDS welcome!
Full-spectrum family and cosmetic dentistry.
Tooth Bleaching
Convenient and effective teeth whitening -brighten up to 4-5 shades!
In a Hurry?
Same-day appointments and no waiting. We're always on time.
No Pain
Laughing gas eliminates anxiety for a comfortable dental experience.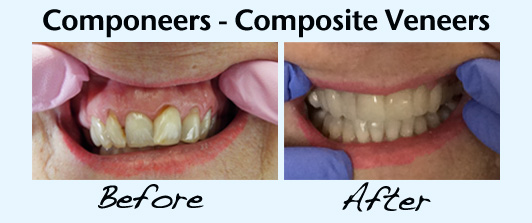 Componeers Composite Veneers in Santa Ana
Componeers are very thin pre-formed composite veneers which will transform a patient's smile. Componeer helps correct imperfections and gives you a new smile with little impact to your natural tooth structure.